Square Opening Wire Mesh Weaving Machine
AH2001 Shuttleless Weaving Selvage Machine

Insect Mesh Weaving Machine
The type AH2001 shuttleless weaving selvage machine is one of the type of insect mesh weaving machines and it is a light duty mesh weaving machine. The machine can be utilized for weaving selvage insect mesh. The machine is of simple and rational construction. It performs satisfactorily and runs smoothly. The machine has been exported to Thailand, Mexico, Indonesia and other parts of the world, and won the high appraise from customers. The insect mesh weaving machine is available to weave from mesh 8 to mesh 24. Three types of width available: 1.00m, 1.22m, 1.52m.
Square Mesh Weaving Machine (AHX07B)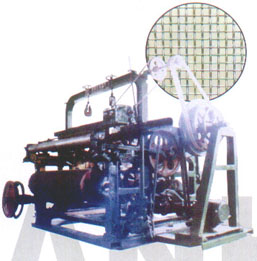 AHX07B shuttle weaving machine is available for mesh width 1M-2M from mesh 2.5-40mesh.
Major Parameter

| | |
| --- | --- |
| Motor Power | JQ-31-6 2.2-4KW |
| Speed of main axle | 32.8 r/min |
| Speed of crank | 65.5 r/min |
| Shuttle | 240mm |
| Pitch | 110mm |
| Breadth | 1m-2m |
| Mesh | 2.5-8-40mesh/inch |
| Wire diameter | 16-19-34gauge |
| (Length x breadth x height) | (3830) x 2830 x 2200 x 1600mm |
| Weight | 2.5-4ton |